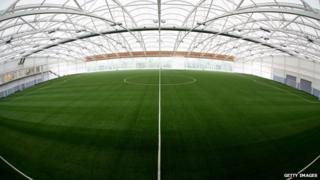 England's football team has been told to stay away from the National Football Centre in Staffordshire because of a stomach bug alert at the ground.
It's after some visitors to the England base at St George's Park became ill over the weekend.
England were due to arrive on Tuesday to train in preparation for their friendly against Chile on Friday.
They will now train at Arsenal's London Colney training ground.
No players have experienced any symptoms so far.
Visitors got a stomach bug at the weekend
The Under-21s, who were already at the ground where they usually train for internationals, have also moved hotels.
The FA said in a statement "This is an elite athlete precaution for the two senior teams. Normal operations continue for St George's Park and hotel staff, customers and the public."
A small number of visitors to St George's Park in Staffordshire were affected over the weekend.
England's senior team have two matches at Wembley coming up. Friday's match against Chile and another against Germany on Tuesday, 19 November.
The Under-21s face Finland at MK Dons on Thursday and San Marino at Shrewsbury on Tuesday 19 November in European Championship qualifiers.
St George's Park was opened in October 2012 and Hayley Cutts was there to make this film about the new National Football Centre