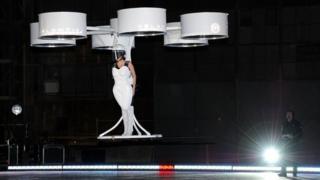 Lady Gaga has unveiled a high-tech 'flying' dress at the launch of her third album in New York earlier this week.
Gaga was lifted several metres off the ground by a machine she calls Volantis during a party for her new album Artpop.
The battery-powered device propels the wearer into the air and fits the body with a moulded plastic suit.
It's not the first time the 27-year-old's clothes have made the news.
Back in 2010 Gaga made headlines around the world with her dress made from meat.