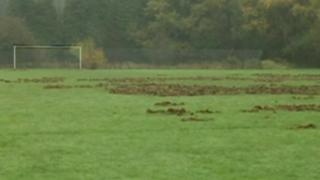 Wild boars have torn up a football pitch for the second time in a week.
They are thought to have caused more than £1,000 worth of damage this weekend at Soudley AFC.
The club is on the edge of the Forest of Dean where the boar are regularly spotted.
It's the third time in total that Soudley AFC has been targeted.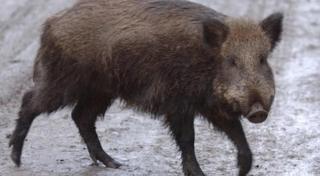 Club chairman Ian Marfell told BBC Sport: "Our groundsman reckons it could be up until Christmas until the pitch is fit again,
"It could have happened to any club around here, but we're the unlucky ones this time. To see it churned up is a bit of a pain."
Boars break in
The boars managed to break through the fences surrounding the ground, leading into the Forest.
Five years ago the club had the same problem but the damage wasn't as bad.
Mr Marfell said: "There was a boar expert down there the other day and he said they are creatures of habit. Because it's a cut field, they like it better so they get the worms and grubs and things like that,
"They just like to get in there quickly and dig up what they are looking for."