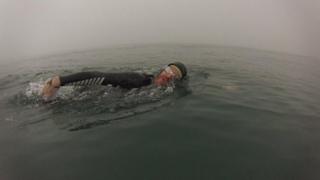 A man has completed his attempt to swim the length of Britain.
Sean Conway managed to swim up the west coast from Land's End in south west England to John O'Groats in the far north of Scotland.
He was attempting to become the first person to do the 900 mile swim.
Conway finished 135 days after he set off and said it was the hardest thing he had ever done.
Stung by Jellyfish
He has been stung 10 times by jellyfish, swallowed lots of sea water and felt seasick.
In the past few weeks his jaw has been so cold he has been unable to chew solid foods and has had to have his meals mashed up.
He only got to swim 90 of the 135 days - the rest of the time he spent out of the water because of bad weather.