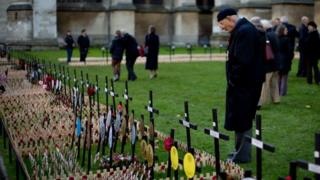 The anniversary of the World War One armistice - signed 95 years ago - has been marked in the UK with a two-minute silence.
The silence takes place every year at the 11th hour of the 11th day of the 11th month - which is when fighting stopped along the Western front in 1918, following four years of World War One.
Armistice Day honours the members of the armed forces who have served and died fighting for their country since that war.
Ceremonies took place at military bases, churches, schools and town halls.
We want to know if you have been doing anything in school to mark Armistice Day - or maybe you were involved in yesterday's Remembrance Sunday? Get in touch using the form below.
Send us your comments
You must ask your parent, teacher or guardian for permission before you send us a comment.
We may show your comment on this page or in our bulletins on the CBBC channel. We'll show your first name and which town you're from - but we won't use your details for anything else.