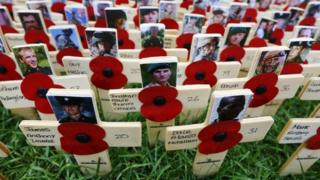 The anniversary of the World War One armistice, which happened 95 years ago, was marked in the UK with a two-minute silence.
Armistice Day honours members of the armed forces who have died in service since WW1.
This year it comes the day after Remembrance Sunday.
The silence takes place at the 11th hour of the 11th day of the 11th month.
This is the time the guns fell silent along the Western front in 1918, after four years of the first world war.
Ceremonies took place at military bases, churches, schools and town halls.
The armed forces charity the Royal British Legion held an event in Trafalgar Square in London.