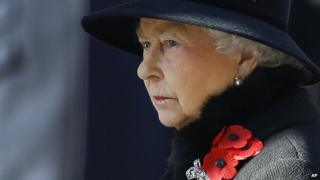 The Queen led the UK's annual Remembrance Sunday service in tribute to service personnel who died during conflicts.
A two-minute silence took place across the UK at 11:00am.
More than 10,000 veterans and civilians gathered at London's Cenotaph, where the Queen laid the first wreath.
Services took place at memorials throughout the UK, in Commonwealth countries and at military bases abroad.
At the Cenotaph, the Queen laid the first floral tribute followed by the Duke of Edinburgh, the Duke of Cambridge and Prince Harry.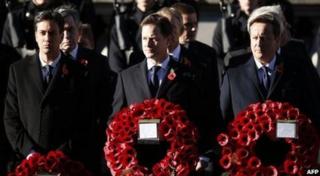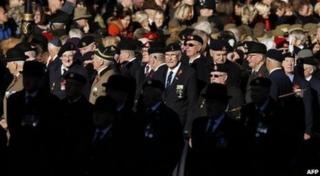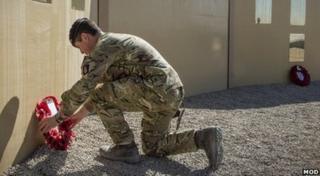 In Scotland, First Minister Alex Salmond and Scottish Secretary Alistair Carmichael laid wreaths at St Giles Cathedral in Edinburgh.
In Wales, a national event took place at Cardiff's Welsh National War Memorial, while in Northern Ireland events included services in Belfast and Enniskillen.
Marching for the first time were 41 members of the British Resistance Movement - known as Churchill's Secret Army or the Coleshill Auxiliaries - volunteer fighters charged with going underground to continue the fight in the event of a German invasion of Britain in World War Two.
The Prince of Wales and the Duchess of Cornwall also marked the event during their official tour of India, joining the congregation of a Mumbai church for their annual remembrance service.
'Mates left behind'
George Batt, national secretary of the Normandy Veterans Association who fought on D-Day, said Remembrance Sunday was a time for reflection.
"We'll be remembering all our mates that we left behind out there who paid the supreme sacrifice. And today, really, brings home the sadness of it all. And I must say, the stupidity of war," he said.