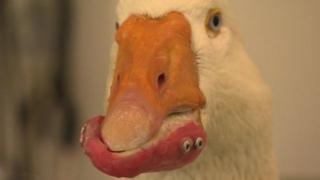 Meet the goose with the plastic beak
A goose that lost part of its beak in an accident has had a new plastic one fitted by a vet.
Tilly, who lives on a farm in West Yorkshire, has managed without a beak for years but needed the replacement after he began to find it difficult to eat.
His owner Frances Hall says he lost his beak around seven years ago.
She's looked after Tilly since he was a baby and she says they have a special friendship.
She said: "He means so much, he's so special. He's more like a dog; he follows me around everywhere."
Watch more Newsround videos