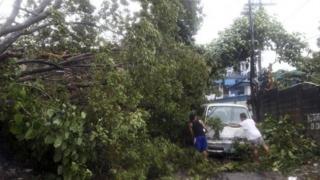 Monster storm hits the Philippines
Central Philippines has been hit by a monster storm with winds of up to 146 miles per hour.
Typhoon Haiyan is so powerful it has been graded a level five storm - the highest category - and experts say it could break records.
Meteorologists say satellite images suggest it could become the most powerful storm ever to hit land.
Millions of people have had to flee their homes to find shelter away from the high risk areas.
Authorities there say more than 12 million people could be affected.
Watch more Newsround videos