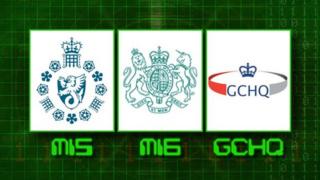 What do the UK's spy agencies do?
For the first time ever, bosses from the UK's three top spy agencies have been shown on TV, being grilled by a group of MPs.
They defended the work of Britain's spies, with the head of MI5 saying that they worked for "freedom and democracy".
Spying has been big news in recent months, after documents suggesting that US and UK spy agencies have been able to tap into millions of emails were published in a newspaper.
Ricky reports on a huge day in the usually super-secretive world of spying.
Watch more Newsround videos