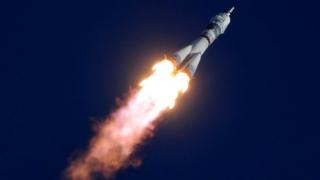 Olympic torch blasts off to space
The Olympic torch for the Sochi 2014 Winter Olympics has now blasted off into space.
On Saturday, the torch will accompany two cosmonauts on a historic space walk. It's the first Olympic torch to do that!
It will then return to Earth to continue its relay before the lighting of the Olympic cauldron in February.
The BBC's Moscow correspondent Daniel Sanford was at the launch site in Kazakhstan the moment it took off - watch the clip, he really has to shout!
Watch more Newsround videos