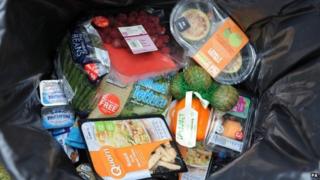 Families in Britain throw away an average of six meals a week, according to new research.
Wrap (Waste and Resources Action Programme) said this amount of waste costs around £60 a month for each household.
The organisation said people throw away food because they buy too much, serve portions that are too large and because of confusing food labels.
Now the chief executive Dr Liz Goodwin is calling for the government and food manufacturers to tackle the problem.
She said: "Consumers are seriously worried about the cost of food. Yet are still wasting millions of tonnes and billions of pounds."
Bread, milk and potatoes
The foods most commonly thrown out were bread, milk and potatoes.
The report also showed that around 86 million chickens are thought to be thrown away every year.
Wrap advised people to buy just what they need, serve smaller portions, and understand the difference between "best before" and "use by" dates.
Wrap is a food waste watchdog funded by the governments of the UK and the EU.