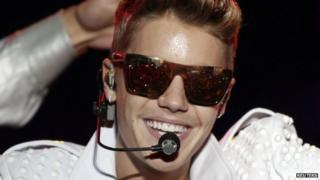 Police in Brazil have charged Justin Bieber with illegally spraying graffiti in Rio de Janeiro.
The Canadian singer could be fined after pictures appeared in local media that looked like he was painting a wall.
Defacing buildings is a crime in Brazil and punishments can mean up to one year in jail or a fine.
However officials described the case involving Justin Bieber as "a minor offence".
In a statement, Brazil's civil police force said Justin Bieber had been charged with "defacing a building or urban monument by graffiti or other means".
'Avoiding fans'
Brazilian media reported and published photos appearing to show the 19-year-old singer spraying graffiti on the wall of the abandoned Hotel Nacional.
The pictures showed him wearing a red cap and army pants - with a security guard on one side, a police car parked on the other.
Bieber had been granted permission from the authorities there to paint at a sports facility nearby, but members of his entourage claim he chose a different location to avoid his fans.
Police say the consent did not extend to any other places.