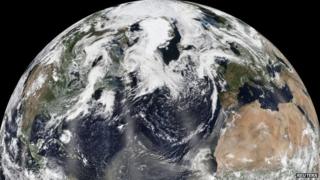 Scientists say levels of gases that are said to cause global warming reached record levels in 2012.
The World Meteorological Organisation (WMO) say their records show that levels of CO2 (carbon dioxide) grew more rapidly last year than in the previous ten years.
Methane and nitrous oxide levels also reached record highs.
The WMO is a branch of the United Nations in charge of studying the Earth's atmosphere, climate and oceans.
The organisation says since 1990 the warming effect on our planet has gone up by almost a third.
'Worrying trend'
For this report gases are measured in the atmosphere and findings don't include the amount of CO2 which is absorbed by plants, trees and the ocean.
WMO boss, Michel Jarraud said the levels are rising each year and that this is a worrying trend.
He said: "The observations highlight yet again how heat-trapping gases from human activities have upset the natural balance of our atmosphere and are a major contribution to climate change."
The WMO report, called the Greenhouse Gas Bulletin, says that it is not yet possible to say whether the methane increase is caused by human activities like cattle breeding and landfills, or whether it's caused by natural sources such as wetlands.
But at recent global meeting on climate change, leading scientists from all over the world working for the UN, said evidence suggested that global warming is caused by humans.