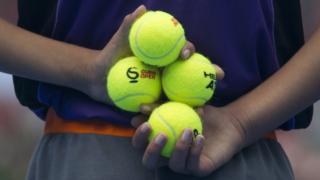 Ayshah meets top ball boys and girls
The top eight tennis players in the world are battling it out at the ATP World Tour finals in London.
Rafa Nadal, Roger Federer and Novak Djokovic are just three of the top names competing in the last tournament of the year.
But what about the boys and girls who have to be on sharp form at the edge of the court? Yes, the boy balls and girls!
Ayshah went to find out the rules of their game.
Watch more Newsround videos