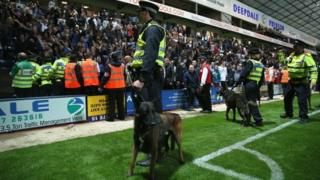 They help catch criminals, sniff out trouble and protect their police handlers. One team of police dogs are so well thought of - they're being given money by their police force when they stop working.
Nottinghamshire Police say the hounds are so brave and hard-working that they deserve a special pot of money for when they retire.
Starting next month all of the force's 26 dogs will be given £1500 to be used on medical bills after they finish working for the police.
Sterling service
Paddy Tipping, the Police and Crime Commissioner said: "Many of the force's dogs are fit and healthy when they retire but some need medical treatment for injury or illness resulting from being worked hard while tackling crime,"
He added: "These dogs give willing and sterling service over the years in protecting the public so I am delighted to approve a scheme that will ensure continuing medical help once their work is done."
Most police dogs stay with their handler at their family home when they retire. Police dogs are not suitable for re-homing with other families, but if they can't stay with their handler they are sold or re-homed with farmers and security firms.