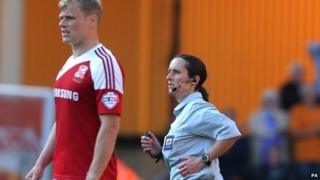 Amy Fearn is to become the first woman to referee an FA Cup first-round match this weekend.
The 35-year-old will take charge of Corby against Dover on Saturday.
Amy was also the first woman to referee in the Football League three years ago in 2010.
She took over for the final 20 minutes of Coventry's 1-0 win over Nottingham Forest after referee Tony Bates suffered a calf strain.