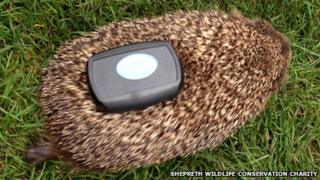 Hedgehogs which have been nursed back to health at a rescue centre are being fitted with GPS "backpacks" .
The backpacks will track how they are doing for a couple of months when they are released into the wild.
24 hedgehogs, cared for at Shepreth Wildlife Park in Cambridgeshire, are to be kitted up with the technology.
The device uses a satellite to track what the hedgehogs are up to. Wildlife workers can then see the results on their computers.
It's hoped that by keeping an eye on their movements, the study can eventually boost the survival rates of released hedgehogs.
Over time it can help researchers identify the best release sites and the areas hedgehogs are most likely to thrive.
The tracking device is attached when the hedgehog gets its final health check from the vet.
An inch-square section of spines is clipped on each creature's back with the battery-powered backpacks then glued on.
Checks have already been carried out to make sure the backpacks don't cause any ill-effects.
The backpack will fall off when the animal naturally sheds its spikes in a few months.
The research has been funded by the British Hedgehog Preservation Society.