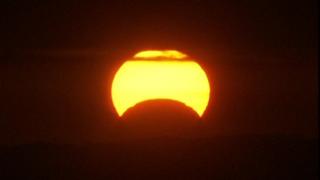 Watch: Epic pictures of solar eclipse
A rare solar eclipse was seen across Africa, Europe and the US.
It happens when the Moon sits between the Earth and the Sun, plunging parts of the world into complete darkness
It was first seen in the southern United States, and is moving east. The best view of the total eclipse on land was visible from Gabon.
The total eclipse then moved east across the African continent. Partial views were available in southern Europe.