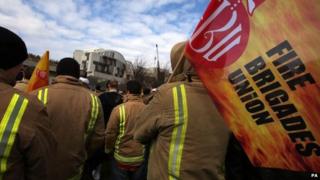 Firefighters in England and Wales carried out a strike on Friday in a row with the government about their pensions.
Members of the Fire Brigades Union stopped working between 6:30pm and 11pm and plan another strike for two hours on Monday.
They're still going to any major fires, but fire bosses advised people to put off home firework displays to Saturday night, or go to an organised event.
The government says the strike action is completely unnecessary and will harm the reputation of firefighters.
Quiz: Play our Bonfire Night quiz
There were strikes earlier this year too - the union are concerned about government plans to raise the age firefighters need to retire.
At the moment firefighters can retire at the age of 55, but the government wants to raise that age to 60.