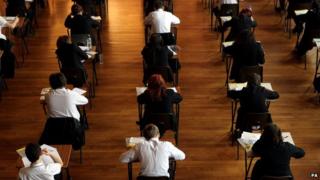 The biggest changes to GCSEs in decades are going ahead in England.
Instead of being graded from A* to G, they'll be marked from 1-9, with nine being the top grade.
Students in Year 8 now will be the first to be affected.
Coursework is being scrapped for most subjects, meaning exams will count for most of the final grade.
English and maths will change first, with an exam and no modules.
The Government says it'll make GCSEs more challenging but one teaching union says the changes will be confusing.
The changes to GCSEs are being made in England only. Wales is planning its own GCSE shake-up, but Northern Ireland is not planning any changes. Scotland has its own exams system.