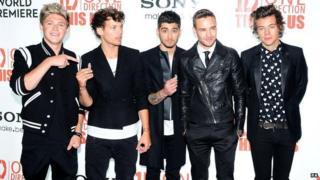 One Direction have been rated as the most influential tweeters in the the UK.
The 1D boys beat singer Ed Sheeran, Prime Minister David Cameron to the top spots.
Out of the five boys, Liam took the top spot followed by Harry, Niall, Louis and Zayn.
Social media company, PeerIndex, analysed more than 10 billion tweets to collate the information.
Quiz: 1D or waxwork? Can you spot the difference?
Top 10 influential tweeters in the UK
1. Liam Payne
2. Harry Styles
3. Niall Horan
4. Louis Tomlinson
5. Zayn Malik
6. Ed Sheeran
7. David Cameron
8. Piers Morgan
9. Caitlin Moran
10. Ricky Gervais