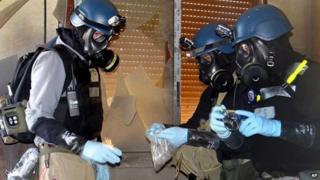 Syria can no longer make chemical weapons, say international inspectors.
The Organisation for the Prohibition of Chemical Weapons say equipment and parts that could be used to make weapons are no longer usable and have been locked away.
But Syria has until next year to actually destroy the chemical weapons.
Inspectors from the OPCW were sent there following claims that government forces had used the weapons to kill hundreds of people in August.
The Syrian government denies the accusations. They agreed to destroy their weapons as part of a deal to avoid American air strikes on the country.