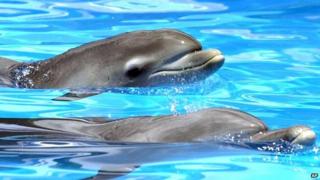 Aquarium's wild dolphin row
Singapore's Marine Life Park opened earlier this year and it's already in the Guinness Book of Records for being the world's largest aquarium.
It's home to 100,000 animals who live in 45 million litres of water. However, recently the marine park has been criticised on how they source their dolphins.
Environmental activists say that capturing dolphins from the wild to display in aquariums is wrong. They say it's better to showcase dolphins who are born and bred in captivity.
But the Park says the health and happiness of the dolphins is their top priority.
Aquarium criticised for displaying wild dolphins
Watch more Newsround videos