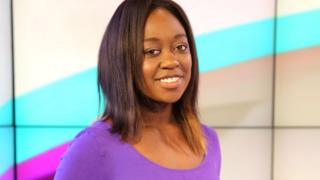 Ayshah Tull is one of Newsround's presenters. London-born Ayshah loves finding out what's going on in the world.
Birthday
28th September, I'm a Libra baby.
Where were you born?
I was born in Perivale in London. I've lived there all my life and it's a great place to grow up, it's like being in the countryside but living in the city at the same time. Now I've moved to Manchester which I'm very excited about.
What are your hobbies?
I am netball mad, I try and go to a session every week and I'm very competitive. It's such a great sport and very social, the ladies I play with are lovely. They wouldn't mind me saying we're not the best players in the world but we give it our all on the court.
What's your favourite item of clothing?
Skinny jeans are probably one of the best pieces of clothing ever invented. I bought my favourite pair on sale in New York!
Favourite song?
It's hard to pick just one! At the moment it's Irreplaceable by Beyonce. It's a great hairbrush song to sing when you're getting ready.
How do you spend the perfect weekend?
It would involve doing anything with my friends. When it's cold outside we love going to restaurants, Italian is my favourite and I love pizza. I will happily scoff down a couple of slices and listen to all the gossip from my mates.
What other jobs have you had?
My first job was a Sales Assistant in a clothes shop. You have to talk a lot to customers which is very good training for a career in journalism.
What were you doing before Newsround?
Before Newsround I worked at Sky News. I learned a lot from being there. Before that I was at BBC Radio 5 Live and worked on the BBC's Olympics coverage.
What makes a good Newsround story?
Adventurous, exciting and shocking stories do very well on Newsround. I recently did a story about governments spying. I got to dress up as a spy and snoop around the Newsround office spying on Ricky. It was fantastic!
How did you get into journalism?
When I was 15 I went on a school trip to a big newspaper. We had to write a front page and from that moment I knew I wanted to be a journalist. I loved being creative and using words to express myself and most importantly I enjoyed telling people what was going on in the world. I looked for work experience and eventually was given an opportunity to work at the BBC.
What's your advice for children who want to be a journalist?
Get as much work experience as you can. It can be quite competitive but don't give up. There are always good places to try and get experience like hospital radio, local radio and local newspapers. You need to know what you're letting yourself in for and whether you'll like it.
What's your favourite gadget?
I love my smartphone. I cannot live without checking my emails and messages constantly. If I'm without it for too long my fingers start twitching. I also use it for the apps.
What's your biggest ambition?
My ambition was always to work for Newsround! Eventually I'd like to be one of the BBC's Washington correspondents and work in the United States.