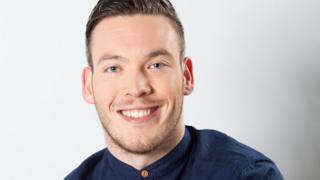 Martin Dougan is one of Newsround's presenters. Sport-loving Martin joined the team in February 2013.
31st May
I was born in Glasgow in Scotland and grew up in a little town called Partick. Now I live between Manchester and Coventry.
I love sport, music and movies. I love football and I used to play wheelchair basketball. I don't play much now. If there's any sport on TV, I'll watch it. I also like going to watch live bands in concert, and there's nothing I enjoy more than buttered popcorn whilst watching a film at the cinema.
Favourite item of clothing?
Trainers! I am obsessed with getting new shoes. If I had unlimited money, I would have my own room full of them. In an ideal world, I would only wear my trainers once then get a new pair… there's nothing like a new pair of trainers
What's your favourite music?
I have a very mixed music taste. One day I will be listening to a bit of Russell Watson's opera - the next day I will be raving to Maroon 5 and of course One Direction.
How would you spend your perfect Sunday afternoon?
I like to spend time with my daughter. We go to the cinema and watch the latest animated films. Then I like to see some friends and watch football.
What other jobs have you had?
I have been a sports instructor, a bar man and a carpenter before. I loved them all, but it's never as fun as working here at Newsround.
What were you doing before Newsround?
Before Newsround I worked for Channel 4 as a reporter during the Paralympic Games. It was the best experience of my life.
What makes a good Newsround story?
Showing you something no one else will have thought about before. I think we do it all the time. Recently we followed the lives of two kids living in Syria and I thought it was really powerful.
How did you get into journalism?
Channel 4 did a talent search for a new presenter for the Paralympic Games. I have been very lucky because I had no journalism experience before. When I first started doing this job Channel 4 gave me a lot of training and now that I work at the BBC I have learned a lot about being a good journalist.
What's your advice for children who want to be journalists?
Journalism is a very competitive industry. If you want to be successful, you need to do more than just write. The journalists here at Newsround also film reports, set up interviews and come up with creative ideas for the show.
What's your favourite gadget?
My smartphone. I think it's brilliant what you can do with a touch of your phone. Listen to music, watch movies, even book a flight. Amazing.
What's your biggest ambition?
I'd like to be remembered for something great. When I went to the Paralympic Games I was so proud to be there. I believe the Games changed people's perceptions of disabled athletes. Now I want to make a difference to how people see TV. It's not an easy task, but I will get there. My biggest ambition is to make sure my little daughter has the best dad in the world.