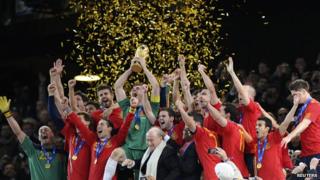 The number of teams playing in the World Cup finals could be expanded from 32 to 40.
The head of European football Michel Platini says that's the best way of getting more Asian and African sides involved.
He says: "You have three days more of competition and you make more people happy."
The number of teams in each group would change: so instead of eight groups of four teams, there'd be five per group.
The number of teams playing has changed before.
The first World Cup in 1930 had only 13 nations competing, but by 1998 it had increased to the current 32 teams.
Fifa President Sepp Blatter - who'll actually make the decision - had previously suggested reducing the number of European teams instead, to help the number of African and Asian teams competing.