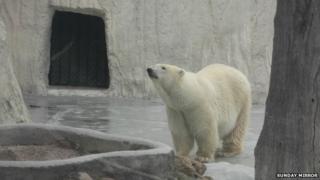 A wildlife park in South Yorkshire wants to rescue a polar bear from a zoo in Mexico.
Yorkshire Wildlife Park, near Doncaster, has offered to rehome Yupi in a newly constructed 10 acre reserve but needs to raise £150,000 to do it.
A park spokesperson said Yupi was currently kept in a concrete enclosure in high temperatures, with "little shade and little stimulation".
She would be the first polar bear brought to England for 20 years.
The new home for Yupi would be like her natural Arctic habitat, with hills, valleys and a main lake with streams, pools and waterfalls.
Arctic-style grass, herbs, shrubs and heathers would be used to make it more like home.
The park, which is more than 5,500 miles (8,900 km) away from Mexico, is waiting for an official response to its offer to rehome Yupi.
According to the Save Yupi campaign's website, she is a 22-year-old polar bear who was brought to the Parque Zoológico Benito Juárez, in Morelia, Mexico, from Alaska way back in 1992.
A Yorkshire Wildlife Park spokesperson said the conditions she's living in aren't good for polar bears: "Her concrete enclosure has little shade, and little stimulation.
"The soaring temperatures are difficult for a polar bear to deal with as they easily overheat."
The only other polar bears in a UK zoo are at the Highland Wildlife Park, in Scotland.
Park Director John Minion said: "This is the ultimate project for Yorkshire Wildlife Park.
"Polar bears are an iconic species that are increasingly threatened in their native habitat and we need to fight their cause."