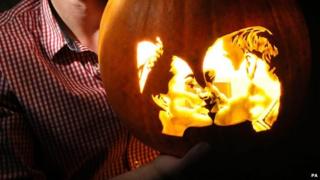 It's that time of year again and with Halloween just a couple of days away lots of people are getting prepared for a night of spooky fun!
We've had plenty of pumpkin action on Newsround over the last few days, including:
We asked you to send us your creepy carvings and loads of you got in touch.
You can see a selection of the best ones in our gallery: Your amazing pumpkin carvings.
Remember: carving pumpkins can be dangerous so you must ALWAYS ask an adult to help you do it. NEVER use knives or scissors without an adult's supervision.
For more spooky tips - check out Friday Download's Style download for Halloween.