President Obama didn't know the United States was allegedly listening to phone calls made by the leader of Germany, US officials claim.
The US National Security Agency is accused of secretly listening to phone calls made by German leader Angela Merkel.
It's caused a big argument between Germany and the United States.
Now the head of the National Security Agency has said Obama was never told about the operation.
Spying's not unusual
Countries do routinely spy on each other, especially if they are enemies, but Angela Merkel has said spying shouldn't happen between countries who are "friends".
Speaking at a meeting of European leaders last week, Mrs Merkel said: "We need trust among allies and partners. Such trust now has to be built anew.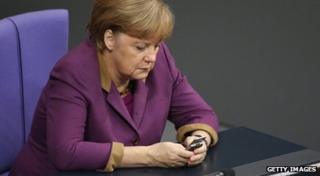 She continued: "The United States of America and Europe face common challenges. We are allies. But such an alliance can only be built on trust. That's why I repeat again: spying among friends, that cannot be."
There are now worries that these spying claims could affect the trust between the US and European countries - and how effectively they work together in their aim to fight terrorism.
International relations
Monitoring other countries can help in war situations or to prevent acts of terrorism but there are questions about justifying which people should be watched.
The United States already has a "no-spying" deal with Britain, Australia, New Zealand and Canada, that was arranged after World War Two.
Now Germany and both France say they want a no spying pact with the US as well.