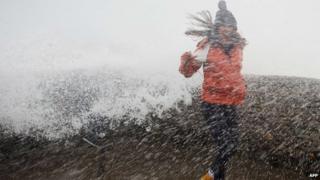 A storm that battered parts of England and Wales on Monday is thought to be the worst in years.
Wind speeds of 99mph were recorded on the Isle of Wight at 5am on Monday morning.
More than a hundred flights from Heathrow airport were cancelled, hundreds of trees blew over and train services were disrupted.
Have you been affected by the storm?
Thanks for sending us your comments. This chat page is now closed.
Your comments
The wind woke us up and we saw that our trampoline was upside down! We were scared that the enormous tree in our neighbour's garden would collapse and fall on us. It was very windy and leaves were blowing everywhere! We know we haven't been as bad as other places but we were still very scared.
Edie and Maia, London, England
The storm hit where I lived at around 7.00am. The wind was howling so much. But luckily we didn't have a lot of damage.
Megan, Northampton, England
Last night we only got rain and there were hardly any strong winds... looks like we got off lightly!
Maddie, Derbyshire, England
I was awoken by the wind and the loud noises of objects and doors closing and opening at 6:00am! My whole family were awake because of this, and it keeps raining as well!
Samira, London, England
When I woke up this morning I had to go out and pick up some bins that were in the middle of the road! While my dad was picking loads of trees up off the road!
Jade, Sudbury, England
High speed winds and lots of rain. It was hard to get to sleep because of all the bins getting pushed over. Our outdoor rabbits came inside for the night!
Niamh, Bristol, England
I haven't really been affected so I must be lucky, but a lot of people have been affected in southern England, and I just hope they're OK!
Amna, Manchester, England
Luckily for me, I live in the north of England so we haven't had strong winds at all but I've heard that it's really bad down south. Good luck cleaning up guys and I hope everything's back to normal soon :)
Gemma, Warrington, England
Our attic window was blown off by the wind and my Dad is having to spend a lot of time fixing it. Luckily I have half-term but my brother had to go to school while it was still really windy.
Ruby, Hackney, England
I'm in Copenhagen and the storm has started, it's horrific and all the signs from the trees are falling off!
Liberty, Copenhagen, Denmark
We had our neighbour's tree in the middle of the road, and two trees blown over in the middle of the park. Also a tree had done a 360 and landed upside down in another tree! A few months ago an oak tree had fallen over, and if that hadn't happened, a tree would have crashed into our house!
Charlotte, Amersham, England
I woke up at 6 in the morning, no electricity and it was dark. Now I've been stuck at home being bored - no shower, no electricity, no oven, no fridge/freezer that is working and no TV. It is so unfair.
Brittney, Hampshire, England
I'm in the Netherlands at the moment for a holiday and trees have been falling down and blocking roads. Also, the leaves are in the air and it's very windy - you can't even walk properly outside!
Maria, London, England
All of the wind has made my television signal collapse. My house has no electricity so we are living in my grandma's house.
Tiffany, Ilford, England
Me, my brothers and my dad went in the car to the seafront and the waves were massive. We kept on having to swerve around bins and recycling boxes!
Daisy, Brighton, England
The storm was so bad a tree blocked our car park next to our flat. My Mum had to walk 2.5 miles to get to work!
Mark, Southampton, England
Our plants have blown to the other end of the garden and the path near my house has been taped off by police because two trees have fallen across the path and into the river.
Leo, Salisbury, England
This morning, when the bin men came up the bins went everywhere, it was like a bin hurricane!
Abigail, Swansea, Wales
Woke up this morning with my neighbour's huge willow tree in my garden, missed the house by 3 feet. He has gone to work and has no idea this has happened.
KC, Hampshire, England
Just outside our house the power line has collapsed which means I can't call my dad who is at work.
Tanya, Staffordshire, England
My neighbour's fence has been blown over into my garden. My fence has had parts of it broken. My other neighbour's bin has been blown into Tesco alley and the bushes in my garden look like they are going to fly across my garden any minute now!
Simran, Braintree, England
Yesterday, our basketball post fell down. We prepared ourselves and brought anything light or anything that could blow away easily inside. Last night I couldn't get to sleep because of the wind banging on the windows. This morning, our fence blew down and crashed into our neighbour's window.
Daisy, Brighton, England
I didn't get any sleep last light because of the noise, the glass in the greenhouse has shattered and we can't go out yet because of the broken glass.
Freya, Haywards Heath, England
There was a big power cut that lasted for about 20 minutes in my area, and a few trees have fallen down in my road.
Emily, Basildon, England
The winds have effected me because a tree has fallen on my house and there are fire engines coming to my house to take it off.
Zine-eddine, Leytonstone, England
We woke up this morning with a huge tent in our garden. It has bent one of the metal poles on our swing. It must have blown over two other people's gardens too, but got stuck between our swing and slide.
Emily & Sophie, Ash, England
Last night our trampoline moved to the end of the garden so now we have tied it to the fence because of the winds. There is a really tall tree near my Nan's house just up the road from my house and in just a bit of wind it looks like it will fall over so I'm worried her house will get squashed.
Amy, Hertfordshire, England
This storm's really getting to me because I'm supposed to go to Wales and see my god brother but these storms are stopping me from being able to get the train down there.
Dewi, London, England
We had to put our bunnies in the garage to keep them safe and warm. Our neighbour's tree has lost a branch and lots of leaves.
Isobel, Canterbury, England
The storm is raging outside and branches are falling. Our chickens are being blown all over the place!
Amber, Suffolk, England
Last night the storm took the roof off our shed and almost knocked the neighbour's fence down!
Natasha, Haywards Heath, England
This morning I was woken up by the wind and my outside furniture was at the bottom of the garden. In my front garden the pipe that collects the water broke.
Maria, London, England
Very strong winds, we can't get down the drive because all of the broken trees have collapsed on it! At least we are all safe inside.
Francesca, Suffolk, England
We haven't been affected but a tree in our garden was like a jelly on a plate last night. It was very noisy. We have chickens outside so the cages were shaking a lot. And the cats didn't like it at all!
Sophie, Brighton, England
The storm is affecting me quite badly as it's hard to get around in my wheelchair with the wind but luckily there's no school so I don't have to go out any way.
Aidan, Cambridge, England
Yesterday there was chaos with everyone rushing home from the coast. People secured down caravans, boats, static homes. Today a lot of the roads have ducks swimming on them. We still have power though.
Elizabeth, Swaffam, England
I have no power in my house and there is some water in the kitchen. A tree has fallen down and just missed a car! I got woken up by the wind and rain.
Sophia, Isle of Wight
This morning I woke up, I looked out of the window and my trampoline fell over and ripped. I was so shocked. I realise I am probably very lucky as other people will have much more damage.
Kezzy, London, England
The storm has affected my area very badly. My neighbours have a tree on their car and others have had their fence blown down. My mum and dad won't be able to go to work because my mum needs to get the train but they have all been cancelled and my dad is a bus driver and his duty has been cancelled.
Davina, Croydon, England
When I woke up I found our big black bin fell over and litter went all over the road.
Nathan, Stanford on the vale, England
The storm has not taken down one tree but the branches have collapsed, the garden is basically a swamp and I'm having a Halloween party on Friday! We will have to clean up.
Sophie, Herefordshire, England
The storm has affected me because I am supposed to be going on holiday today to the Isle of Wight but my ferry has been cancelled.
Hannah, Dorset, England
Fences in my garden have been broken, the trampoline has been broken and so my sister's Wendy house has been destroyed. About six trees have fallen down in my street.
Sasha, Southend-on-sea, England
Last night the rain was so heavy that it kept us awake. Also the rain was dripping through the roof so we had to put a bucket underneath. This morning lots of roads by us are closed because of flooding and transport has been cancelled.
Sophie and Bethan, Cardiff, Wales
I woke up today to find my trampoline blown away and half of our fence has been destroyed. I don't know how we are going to clean this up.
Sara, Hayes, England
My dad can't go to work because of the winds - they have affected trains.
Ollie, Hampshire, England
Half our garden fence has been blown down so we aren't letting our rabbit into the garden today.
Matthew, Brentwood, England
We had an on and off power cut and the strong wind was banging on our windows! No trees have come down yet.
Emily, Essex, England
I was affected and I heard the storm last night. In the garden our bikes have fallen from the rack and the storage boxes have fallen too.
Jacy, Dagenham, England
Today all the bins have fallen down and many trees have snapped. It is really windy - things in our garden have flown everywhere.
Sagityan, Harrow, England