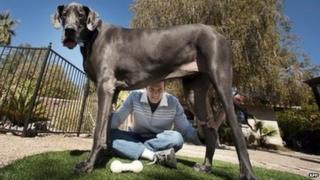 The world's tallest dog has died at the age of seven at his home in Tucson, Arizona.
Giant George weighed more than 17.5 stone (111kg) and was able to reach a height of 7ft 3in (2.2m) standing on his hind legs.
The news of the Great Dane's death was announced on George's official Facebook page.
Owner David Nasser said: "It is with a heavy heart that we announce Giant George died last night."
Giant George actually started life as the runt of a litter of 13 puppies, but went on to grow to 43in (109cm) from paw to shoulder.
He ate around 110lb (50kg) of food each month.
George was so big he had to have his own queen-sized double bed inside the house, where he slept until he died last week.
Record breaker
In 2010, he was named by Guinness World Records as both the world's tallest living dog and tallest dog ever.
He made it into the record books by beating his nearest rival, Titan, a Great Dane from California, by three-quarters of an inch.