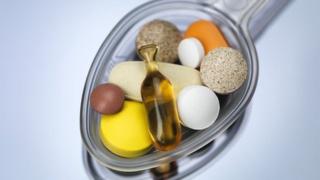 Call for free vitamins for children
The chief medical officer in England says more needs to be done to improve children's health.
In her annual report, Prof Dame Sally Davies says the UK is lagging behind many other European countries.
She calls for a scheme offering vitamins to young children in low-income families to be expanded to include everyone.
She also wants a survey of young people's mental health.
Dame Sally said her annual report - which this year is on child health - questioned whether our society had got the balance right and should act as a wake-up call.
It has been claimed up to 25% of children are vitamin D deficient, which has led to a rise in the number of cases of a disease called rickets, which causes weakness in bones and can lead to deformity.
The best source of vitamin D is sunlight on your skin - but in the winter it can be difficult to get enough, so Dame Sally is recommending vitamin supplements (pills) for young kids.