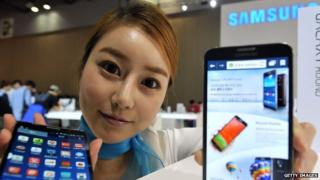 Mobile phone giant Samsung has been fined for posting fake online reviews about its products and those of its competitors.
Taiwan's Fair Trade Commission fined the company $340,000 (about £210,000).
It said that Samsung had paid OpenTide, a company from Taiwan, in east Asia, to write positive comments about Samsung's products in an online chatroom.
They also posted negative reviews about products made by Samsung's competitors such as mobile company HTC.
The chatroom is popular with people wanting advice about gadgets and as the writers of the comments didn't say they were being paid by Samsung for what they wrote, Taiwan's Fair Trade Commission said it was misleading other users of the chatroom.
Samsung says it feels regret over the decision to impose a fine.