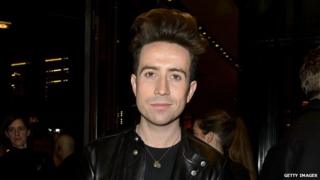 BBC Radio 1 presenter Nick Grimshaw has seen his audience figures slump by 300,000 over the last three months.
The 29-year-old breakfast DJ now has one million fewer listeners than Chris Moyles, according to the figures from research body Rajar.
With 5.58m listeners a week, the breakfast show is suffering its lowest audience for a decade, easily beaten by the morning shows on Radios 2 and 4.
Grimshaw took over from Moyles in 2012, in a bid to attract younger listeners.
Radio bosses say the younger sound of the programme is partly why audience numbers have fallen.
Radio 1 controller Ben Cooper said: "After the biggest set of changes to Radio 1 for a generation, we're really happy that the breakfast show sounds fresher, younger and more vibrant than ever and as a result 833,000 of the show's 'over-30s' listeners have moved on to other stations."