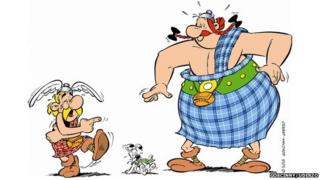 A new comic featuring famous cartoon character Asterix is being set in Scotland.
The story features Asterix and friend Obelix travelling to Scotland and meeting the Picts, an ancient tribe.
In their travels they meet warriors, discover whisky, bagpipes, the origins of Hadrian's Wall and the location of the Loch Ness Monster.
The book is being published in English, Scots and Scots Gaelic, along with many other world languages.
The Asterix books are said to be the world's most popular comic series, with 350 million copies sold. They have also inspired 12 films.
Jean Yves-Ferri and illustrator Didier Conrad are the first people, other than the original creators, to produce an Asterix story.
Speaking to the BBC Mr Yves-Ferri said: "I love the landscapes of Scotland, especially at the north, up in the Highlands.
"And it's the landscape for a story of Asterix - an ideal landscape.
"The principal story - is a kind of love story between a Pict character and a girl. And Asterix and Obelix went to Scotland to help him."