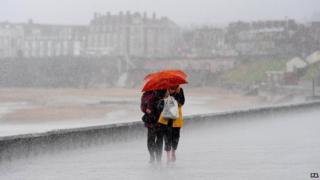 Weather forecasters have warned that a storm on Monday could cause disruption in the south of England, with high winds and heavy rain expected.
There are warnings of the risk of falling trees and damage to buildings from gusts of up to 80mph. An amber alert, to be prepared, has been issued.
There are also concerns that heavy rain could cause flooding in some areas.
Colin Seddon from the BBC Weather Centre said it "is certainly the worst storm we've seen this year".
Things may change yet and forecasters will be updating their predictions as they monitor the storm's progress.
Areas expected to be worst hit include exposed coasts in Cornwall, Devon, Dorset, Hampshire, West Sussex, East Sussex and Kent.
Northern England, the Midlands, southern England and Wales have also been issued with a yellow warning for rain on Monday.
Yellow alerts are the lowest level of the three warnings.
The Met Office said people in those areas should "be aware of the potential for surface water flooding" because of the rain.