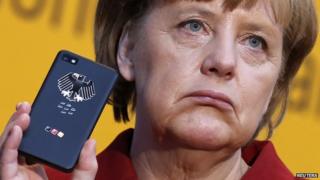 A row is brewing over claims that America has spied on the phone of Angela Merkel, the leader of Germany.
Mrs. Merkel says among close friends and partners, like the two countries are, this kind of behaviour in unacceptable. She wants an explanation.
American president Barack Obama said his country wasn't monitoring her calls and wouldn't in the future, but it's not clear if it's happened in the past.
It's not thought this will become a big row but German newspapers are outraged.
We asked you whether your mates have ever spied on you. Have they looked at your emails, messages or texts without you wanting them to?
How did it make you feel?
This comments page is now closed but you can read a selection below.
Your comments:
Never ever! I have picked the right mates.
Amina, Bradford, England
Yes I have been spied on and I hate it. I find it unfair and hurtful if you get spied on, especially if it is your best mate.
Erin, Hamilton, Scotland
Yes I have, and they got a detention for it.
Emma, Steeple Claydon, England
My friends have spied on me but only for a joke or because they were they messing about. Never in a nasty way.
Lucy, Silsoe, England
It's ok if you are only playing, as long as your friend knows what you are doing and they don't mind. If you do it to them secretly, it might hurt their feelings.
Farsya, Birmingham, England
I think it's wrong. If they want to know something they can just ask you!
Amelia Rose, Manchester, England
I think its only fine if you're doing it for security reasons and you work for something like MI5.
Reuben, Stroud, England
My best friend told me that her brother's best friend was looking at her grandma's texts on her phone. It's not right or clever. It could get you sent to prison when you're an adult.
Evie, Wragby, England
Yes, I have put things in my locker and on my phone that are private and they were looked at. I have never looked at someone else's things without their permission.
Abbie, Haverhill, England
My friends have never spied on me. If they did I wouldn't be happy.
Mary, Sherborne, England
My friends don't spy on me but other people do and it is very annoying I tell them not to but they do it anyway. Now loads of people know about my private life and I hate it.
Oscar, Petersfield, England
My mates rarely spy on me, but when they do I get over it. It's just a game.
Cindy, Cardiff, Wales
My friends have spied on me before - once they even kept running away from me.
Amy, Deal, England
Yes, but only because we're friends and it's always a game!
Sarah, Manchester, England
None of my mates have ever spied on me, but they do creep up on the other kids in our class by shouting 'boo' by the side of the stairs!
Isma, Birmingham, England
Yes, I have had that happen to me before and it's not right and it shouldn't happen.
Diana, Rugby, England
I think it's not ok for your mates to spy on you because it could hurt your feelings.
Jessica, London, England
My friends sometimes look at my emails and it upsets me as it's my private life.
Olivia, Northern Ireland
It's not okay if someone is spying on you because it can cause a big problem in your family, friends and relationships. If someone is spying on you they will know everything about your social life.
Bentson, London, England