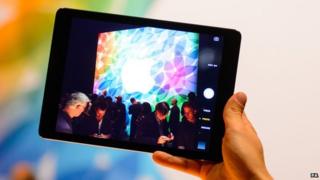 Apple has launched two brand new tablets - the iPad Air and the new iPad mini - but they come with hefty price tags.
The iPad Air is thinner than the last iPad - at 7.5mm thick - and weighs 469g, about the weight of a small bottle of fizzy drink.
Apple say it's the lightest full-sized tablet that you can buy.
It's faster than the previous iPad and will be available to buy from the beginning of November.
But while the Air is lighter, slimmer and faster than previous iPads, some critics are saying that it's not a massive leap forward - there aren't features that will revolutionise the tablet market.
There's also a new version of the iPad mini which has got a better screen resolution than the last one.
However Apple is still keeping its tablets at the pricier end of market, with the iPad Air starting at £399 and the iPad mini starting at £319.