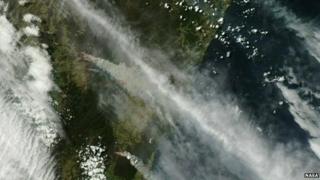 Australian fire officials say the threat to the Blue Mountains west of Sydney "has been averted" for the day, but warn the crisis is far from over.
More than 3,000 firefighters are battling the fires which are so big they can now be seen from space.
In total, 73 fires are burning across the state, 29 of which are uncontained.
Residents should be able to return to their homes later on Wednesday said New South Wales Rural Fire Service Commissioner Shane Fitzsimmons.
Meanwhile, a fire service investigation has concluded the largest of the fires in the Blue Mountains - State Mine near Lithgow - was caused by explosives training at an army range at Marrangaroo.