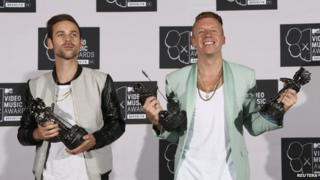 You Tube have announced the nominations for their first ever awards ceremony.
Macklemore & Ryan Lewis are leading the nominations as they are up for four prizes.
One Direction, Lady Gaga, Justin Bieber, Psy have all been nominated alongside the duo for Video of the Year.
The nominations are based on views, likes, comments and subscriptions over the last 12 months.
From today, fans can choose who will win at the awards ceremony, which will take place in New York on 3 November, by sharing the videos across social networks.
Music stars such as Lady Gaga, Avicii and Arcade Fire will perform at the event.
The full list of nominees:
Video of the Year
Barack Obama vs Mitt Romney - Epic Rap Battles of History
Demi Lovato - Heart Attack
Girls' Generation - I Got a Boy
Justin Bieber (feat Nicki Minaj) - Beauty and a Beat
Lady Gaga - Applause
Macklemore & Ryan Lewis (feat Mary Lambert) - Same Love
Miley Cyrus - We Can't Stop
One Direction - Best Song Ever
PSY - Gentleman
Selena Gomez - Come & Get It
Artist of the Year
Eminem
ERB
Justin Bieber
Katy Perry
Macklemore & Ryan Lewis
Nicki Minaj
One Direction
PSY
Rihanna
Taylor Swift
Response of the Year
Boyce Avenue (feat Fifth Harmony) - Mirrors
Jayesslee - Gangnam Style
Lindsey Stirling and Pentatonix - Radioactive
ThePianoGuys - Titanium / Pavane
Walk Off the Earth (feat KRNFX) - I Knew You Were Trouble
YouTube Phenomenon
Diamonds
Gangnam Style
Harlem Shake
I Knew You Were Trouble
Thrift Shop
YouTube Breakthrough
Kendrick Lamar
Macklemore & Ryan Lewis
Naughty Boy
Passenger
Rudimental
Innovation
Anamanaguchi - ENDLESS FANTASY
Atoms For Peace - Ingenue
Bat For Lashes - Lilies
DeStorm - See Me Standing
Toro Y Moi - Say That