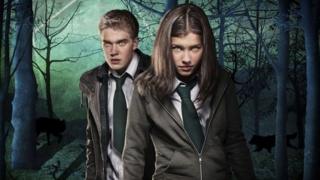 The British Academy of Film and Television Arts (Bafta) has announced the nominations for its annual British Academy Children's Awards.
The awards are given to top children's TV shows, films, games and presenters.
Wolfblood, CBBC's show about the teenagers who lead double lives as humans and wolfbloods, leads the field with four nominations in total.
The Amazing World of Gumball and Hacker Time are up for two awards, as are Stepping Up and Horrible Histories.
Newsround is up for an award for the special show Hard Times, and Absolute Genius with Dick and Dom is too.
CBBC's website is nominated for an award, but will face stiff competition from the likes of Disney, Miniclip, Moshi Monsters, Club Penguin and Bin Weevils.
Justin Fletcher, presenter of Justin's House has been nominated for two awards, and he is already the proud owner of the most Children's Bafta prizes.
He's up for best presenter, alongside Sam and Mark for Big Friday Wind-Up, Blue Peter's Barney Harwood and Show Me Show Me's Chris Jarvis.
There's also the Bafta Kid's Vote award - where you guessed it - you guys get to to choose your favourite film, television programme, website and game. Voting opens today at 9am and closes at 6pm on Friday 22 November.
The winners of all the categories will be announced on Sunday 24 November.
Full list of nominations:
ANIMATION sponsored by Toon Boom
The Amazing World of Gumball
Room on the Broom
The Snowman and the Snowdog
Strangehill High
CHANNEL OF THE YEAR
Cartoon Network
CBeebies
Cyw
Disney Junior
COMEDY
DNN
Fit
Hackertime
Horrible Histories
DRAMA
The Dumping Ground
Stepping Up
Wizards vs Aliens
Wolfblood
ENTERTAINMENT
Help! My Supply Teacher Is Still Magic
Horrible Histories: Gory Games
Officially Amazing
Sam and Mark's Big Friday Wind-up
FACTUAL
Absolute Genius with Dick and Dom
My Life - Breaking Free
Newsround: Hard Times
Operation Ouch
FEATURE FILM
Brave (PG)
Life of Pi (PG)
ParaNorman (PG)
Wreck-It Ralph (PG)
GAME
Animal Crossing New Leaf
Lego City Undercover
Skylanders Giants
Luigi's Mansion 2
INDEPENDENT PRODUCTION COMPANY
Complete Control UK
Darrall MacQueen
Kindle Entertainment
Somethin' Else
INTERNATIONAL
Adventure Time
Doc McStuffins
Kung Fu Panda: Legends of Awesomeness
Regular Show
LEARNING - PRIMARY
Children of World War II
Found
What Makes Me Me? And Other Interesting Questions
You Too Can Be an Absolute Genius
LEARNING - SECONDARY
The Imagineers
Just a Few Drinks
L8R Youngers 3
Romeo and Juliet - In Performance
MULTIPLATFORM
Championsheeps2
Kinect Sesame Street TV
Y Lifft (The Lift)
Peppa Pig's Holiday
ORIGINAL INTERACTIVE
Lifesaver
Moshi Monsters
Sneak
Teach Your Monster to Read: First Steps
PERFORMER
Aimee Kelly (Maddy Smith) - Wolfblood
Bobby Lockwood (Rhydian Morris) - Wolfblood
Justin Fletcher (Justin) - Justin's House
Phil Fletcher (Hacker) - Hackertime
PRE-SCHOOL ANIMATION
Octonauts
Peppa Pig
Sarah and Duck
Timmy Time
PRE-SCHOOL LIVE ACTION
CBeebies Ugly Duckling
Ha Ha Hairies
Mr Bloom's Nursery: Get Set, Grow
Something Special
PRESENTER
Barney Harwood - Blue Peter
Chris Jarvis - Show Me Show Me
Justin Fletcher - Something Special
Sam Nixon and Mark Rhodes - Sam and Mark's Big Friday Wind-up
SHORT FORM
Aim High
Cardboard Box Adventures
Share a Story
What's the Big Idea?
WRITER
Writing Team - The Amazing World of Gumball
Debbie Moon - Wolfblood
Nick Leather - Stepping Up
Sam Morrison, Neville Astley, Mark Baker - Peppa Pig
BAFTA Kids' Vote Top 10s
TELEVISION
The Amazing World of Gumball - Cartoon Network
The Dumping Ground - CBBC
Good Luck Charlie - Disney Channel
Horrid Henry - CiTV
iCarly - Nickelodeon
Jessie - Disney Channel
Phineas and Ferb - Disney XD
Show Me What You're Made of - CBBC
Wizards vs. Aliens - CBBC
Wolfblood - CBBC
GAME
Angry Birds Star Wars
Cut the Rope: Time Travel(3+)
Despicable Me: Minion Rush(3+)
FIFA 13(3+) Electronic Arts
LEGO The Lord of the Rings(7+)
Minecraft(7+)
Need for Speed Most Wanted(7+)
New Super Mario Bros. 2(3+)
Skylanders Giants(7+)
FEATURE FILM
The Croods
Despicable Me 2
The Hobbit: An Unexpected Journey
Iron Man 3
Life of Pi
Man of Steel
Monsters University
Star Trek Into Darkness
The Twilight Saga: Breaking Dawn Part 2
Wreck-It Ralph
WEBSITES
CBBC
Miniclip
Moshi Monsters
Disney
Club Penguin
Bin Weevils
Stardoll
Girlsgogames.co.uk
LEGO Worlds
Nickelodeon