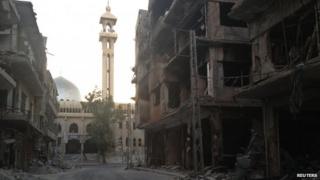 Officials from 11 Arab and western countries met with Syrian opposition today to try to persuade them to join peace talks in Geneva next month.
They say Syria's opposition groups must pull together for talks to be possible.
UK Foreign Secretary William Hague said next month's talks offered Syrians the "best hope to improve their lives".
The opposition group say they will not agree to a peace deal unless Syria's President Bashar al-Assad steps down - but he refuses to agree to this.
Britain, Egypt, France, Germany, Jordan, Italy, Qatar, Saudi Arabia, Turkey, the United Arab Emirates and the United States all support a move away from the Assad regime in Syria.
The conflict in Syria began in March 2011 and since then, the United Nations estimates more than 100,000 people have died in the clashes between President Bashar al-Assad's government and rebel forces who want him out.
The UN also says more than two million people have fled Syria to neighbouring countries, and over half of those refugees are children.
Read more: What's happening in Syria?