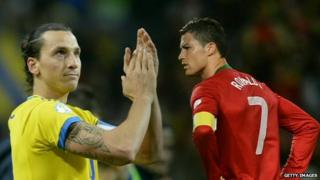 The World Cup play-offs have been announced and it means superstar players Cristiano Ronaldo and Zlatan Ibrahimovic will go head to head.
Ronaldo's Portugal drew against Zlatan's Sweden meaning only one of the top players will get to go to Brazil next year.
France who were finalists last year and won the cup in 1998, have drawn against Ukraine.
Greece will face Romania, and Iceland will play against Croatia.
Each pair will play twice and the four winners will qualify for the finals in Brazil next year, joining the likes of England, Spain, Germany, Italy and the Netherlands.
Draw:
•Portugal v Sweden
•Ukraine v France
•Greece v Romania
•Iceland v Croatia
Matches will take place on 15th and 19th of November.