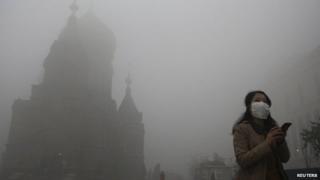 A city in China is completely covered by a thick smog that's so bad people can barely see what's in front of them.
Parts of Harbin in northern China are said to be so smoggy that the people living and working there can't see beyond 50 metres.
Schools, roads and the city airport have had to be shut down.
Local media have linked the pollution to the city switching on its public heating system for winter.
Local news reports say the pollution in the air - that causes the smog - has reached very high levels, way above the safe guidelines recommended by the World Health Organisation (WHO).