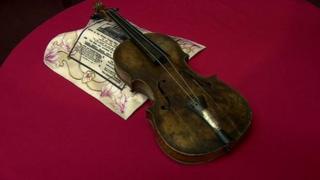 A violin that sank with the Titanic over a hundred years ago has been sold at auction for a record price.
The rosewood instrument was played by the Titanic's bandleader Wallace Hartley when the famous ship sank in 1912.
It's been described as one of the most important objects ever discovered that sank with the ship.
It sold for £900,000, making it the single most valuable piece of Titanic memorabilia.
Other items that were sold included his sheet music and the bag he kept it in.
Learn more about the sinking of the Titanic and then test your knowledge with our quiz.