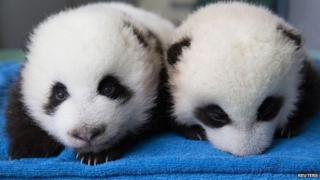 Now these panda pups would definitely win the cute and fluffy prize!
They are the first cubs to be born in America in 26 years, but have been wrapped up since being born in July.
But experts say they're now ready to go on display at a zoo in Atlanta - even though they don't have names yet.
People in America have been asked to send in name suggestions for the two male pups and the winner will be revealed next week.
If you had to name the pups, what would you call them?
Maybe after your favourite book characters - like Harry and Ron from Harry Potter?
Or maybe after your favourite sport stars?
This is just for fun - and won't be passed onto the zoo, so don't be upset if they don't use your names.
You sent in some of your suggestions
I absolutely adore pandas, they are my favourite animals of all! If I could name these pandas I would call them; Charles (Charles Dickens, Charles Darwin, Prince Charles...) representing intelligence and Alfred (Alfred Nobel) representing peace.
Nia, Dorset, England
I think that they should call them Jimmy and Bobby because the names are cute.
Katie, Paderborn, Germany
I think the pandas should be named Lemon and Lime but anything that rhymes or comes in pairs would be cute.
Angel, Milton Keynes, England
I think the pandas should be called Milo and Max.
Maisie, Forfar, Scotland
I think they should John and Edward from Jedward!
Olivia, Northern Ireland
I think the panda cubs should be called cheese and pickle because there random cute name and the pandas are cute
Jade, Kent, England
I think one of the pups should be called Snowy and the other one should be called Max.
Oliver, London, England
I like Oreo and Irwin so that's my choice!
Zoe, Cornwall, England
I think the should be called Fluff-Pup and Snowball.
Katie, Hayling Island, England
I think they should call them Salt and Pepper.
Summer, Cornwall, England
I think the pandas should be called Zeus after the roman god and Lysander from William Shakespeare's play 'A Midsummer Nights Dream.'
Jordan, Newcastle, England