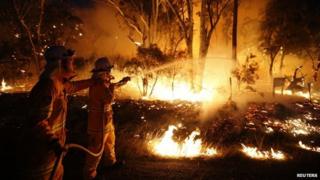 Fire fighters tackling bushfires in Australia's New South Wales area have deliberately merged two fires in attempt to stop them from spreading.
The practice is called back-burning and it's a way of reducing the amount of flammable material - such as dry timber and bushes - by burning them.
This stops the spread of the fire and helps the fire fighters get it under control.
The New South Wales fire commissioner said he ordered this because weather conditions are expected to add to the risk of fire over the next few days.
Authorities have declared a state of emergency in the area and officials say they are the worst fires the state has seen in 40 years.
The fires have been burning for several days and fire-fighters have taken advantage of cooler temperatures to try to get them under control.
But extreme hot and windy weather forecast for the next few days are expected to make the fires harder to handle.
Pictures: Australia battles bushfires
The government in Australia has urged residents living in the areas affected to leave their homes and find safe places to stay.
A state of emergency is when officials are given additional powers by government to help tackle an unusual situation.
In this case the declaration will give emergency services additional powers over the next 30 days which could include cutting gas and power supplies if needed.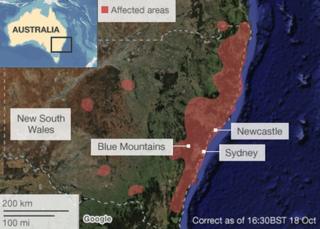 The fires have already destroyed more than 200 homes and the Blue Mountains, west of Sydney, has been the worst-hit region.
An investigation is under way to see how one of the wildfires started.