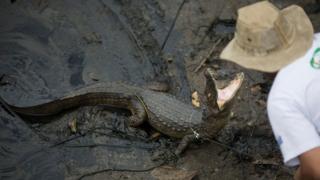 Caiman conundrum for Rio 2016
Alligator-like caimans have made their home in Rio de Janeiro, giving Olympic organisers a bit of a headache.
Up to 6,000 of the large lizards are thought to be living in a huge lagoon system west of the city in Brazil.
Rio has been chosen to host the next Olympic Games in 2016 but the caimans have taken up residence near to a key Olympic site.
The site is the location of the Olympic village, which is where all the athletes will stay during the Games.
Experts think that the caimans have been attracted to the lagoon because pollution there has warmed up the water.