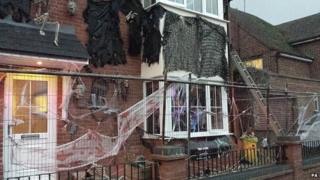 A man has been told by police to tone down his Halloween decorations after complaints it was scaring children.
James Creighton decorated the outside of his house in Hertfordshire with skeletons, zombies and other gory decorations.
But police told him a passer-by had complained to them, saying it had made their child cry.
James decorates his house every year to mark Halloween and to raise money for charity.
He said he thought police were "joking" when they told him of the concerns.